Nikola Tesla for Kids: His Life, Ideas, and Inventions, with 21 Activities (For Kids series #72) (Paperback)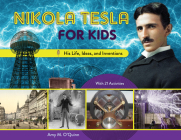 Other Books in Series
This is book number 72 in the For Kids series series.
Description
---
Finalist for the
2020 AAAS / Subaru SB&F Excellence in Science Book exemplify outstanding and engaging science writing and illustration for young readers
Nikola Tesla was a physicist, electrical engineer, and world-renowned inventor whose accomplishments faded into oblivion after his death in 1943. Some considered this eccentric visionary to be a "mad" scientist, but many of his ideas and inventions that were deemed impossible during his lifetime have since become reality. He is now acknowledged to have invented the radio ahead of Marconi. Tesla was undeniably eccentric and compulsive. Among other things, Tesla developed generators, fluorescent tubes, neon lights, and a small remote-controlled boat. He also helped design the world's first hydroelectric plant at Niagara Falls. 
Nikola Tesla for Kids
is the story of Nikola Tesla's life and ideas, complete with a time line, 21 hands-on activities, and additional resources to better understand his many accomplishments.Kids will:  
Construct an electric circuit
Explore Tesla's birthplace online
Investigate the nature of electromagnetic waves
Mix up batch of fluorescent slime
"Visit" the 1893 World's Columbian Exposition 
Build a soda bottle submarine
And more!
About the Author
---
Amy M. O'Quinn is a former teacher and the author of Marie Curie for Kids. She is also a freelance educational writer who has contributed to Jack and Jill, Learning Through History, Guideposts for Kids, Highlights for Children, The Old Schoolhouse Magazine, and Homeschooling Today. 
Praise For…
---
"...a winning tribute to a scientific dreamer who was both a man of his times and, often, well ahead of them."  —Kirkus Reviews

" ...a natural fit for any school library or classroom." —Foreword Reviews

"It's very highly recommended." —Midwest Book Review

"This is a definite 5 star book. Perfect for book reports, STEM classes, and independent reading." —Devoted Mommy of 3

"A useful addition to a library serving middle grade students who enjoy biographies, science, and scientific activities." —School Library Journal Online

"Offered so much in terms of science and STEM learning." —Inspired by Savannah

"An outstanding supplement to school materials for older kids." —Rhapsody in Books

"Amy M. O'Quinn, who crafted a spectacular nonfiction book on Marie Curie, brings her impeccable research skills to a biography of inventor Nikola Tesla. Both the brilliant, eccentric man the fields in which he worked are complex, but O'Quinn brings them to life through photographs, fascinating drawings, and a host of resources, including experiments young inventors can try on their own. While this is a perfect choice for elementary and middle school readers who wish to go beyond a picture book biography, adults whose knowledge of Tesla is confined to spotting a shiny new car on the highway will find much to appreciate in this well-crafted, timely portrait. Highly recommended." —Deborah Hopkinson, award-winning author of Who Was Charles Darwin?, The Great Trouble, and more

"Nikola Tesla for Kids is a compelling read as O'Quinn covers Tesla's early life in Europe, his brilliant inventions in the prime of his life, and the development of his famous Tesla Coil. When you add in the cool science experiments for kids to do on their own, it's a combination that's sure to be an asset to any classroom at school. I really enjoyed reading this book and you will, too." —Jennifer Swanson, author of Brain Games, and award-winning author of 35 STEM books for kids