Zog and the Flying Doctors (Hardcover)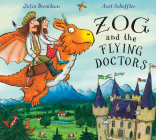 $17.99

Not on our shelves now. Usually ships in 4-7 business days from warehouse.
Description
---
From the bestselling duo of Donaldson and Scheffler, Zog the dragon returns with a girl-power princess story about being true to yourself!Zog the dragon, Princess Pearl, and Sir Gadabout have taken to the skies! No sniffly lion or sunburned mermaid will go without care while the flying doctors are on duty. But Princess Pearl's unconventional career path doesn't sit so well with her uncle, the king. He thinks princesses should stay in their towers and embroider cushions all day! When the king's mysterious illness befuddles all the royal doctors, however, it's Princess Pearl to the rescue! She not only heals the king -- she also changes his mind about what it means to be a princess.The heroes of A Gold Star for Zog fly again in this story of the value of letting your talent shine, all told in Julia Donaldson's enchanting rhymes with Axel Scheffler's witty illustrations.
About the Author
---
Julia Donaldson served as the UK Children's Laureate from 2011 to 2013 and has written many bestselling and beloved children's books, including The Gruffalo, Room on the Broom, and Stick Man. She lives in West Sussex in the south of the UK.
Axel Scheffler's award-winning books include
Room on the Broom
,
The Snail and the Whale
, and
The Gruffalo
. His illustrations have been published in more than 30 countries. He lives in London, England.
Praise For…
---
Praise for A Gold Star for Zog:A New York Times Notable Book"Donaldson, the current children's laureate in Britain, is a master of witty comic rhyme and original stories with heart. Here she and Scheffler outdo themselves with the smart, funny -- dare I say, deep? -- story of a dragon in training, a princess who wants to be a doctor and a knight who could use a bit of rescuing. The book gets a gold star too." -- New York Times"While Scheffler's characters are straight out of fantasy, they exude a sweet, down-to-earth quality that makes them instantly sympathetic. Readers will get a kick out of the genial self-awareness in his cartooning -- on almost every spread, a character glances at the audience as if to say, 'Can you believe this?'" -- Publishers Weekly"A delightful new twist on happily-ever-after." -- School Library Journal

Praise for A Gold Star for Zog:A New York Times Notable Book"Donaldson, the current children's laureate in Britain, is a master of witty comic rhyme and original stories with heart. Here she and Scheffler outdo themselves with the smart, funny -- dare I say, deep? -- story of a dragon in training, a princess who wants to be a doctor and a knight who could use a bit of rescuing. The book gets a gold star too." -- New York Times"While Scheffler's characters are straight out of fantasy, they exude a sweet, down-to-earth quality that makes them instantly sympathetic. Readers will get a kick out of the genial self-awareness in his cartooning -- on almost every spread, a character glances at the audience as if to say, 'Can you believe this?'" -- Publishers Weekly"A delightful new twist on happily-ever-after." -- School Library Journal