The Elephants Come Home: A True Story of Seven Elephants, Two People, and One Extraordinary Friendship (Hardcover)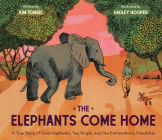 $18.99

Not on our shelves now. Usually ships in 4-7 business days from warehouse.
Description
---
The amazing true story of a herd of elephants, the man who saved them, and the miracle of love that brought them home.

One day in 1999, Lawrence Anthony and Françoise Malby hear that a herd of wild African elephants needs a new home. They welcome the elephants to their wildlife sanctuary—Thula Thula—with open arms. But the elephants are much less sure they want to stay. How will Lawrence prove to them that they are safe and loved? What follows is a gorgeously illustrated real-life story of a friendship . . . and the story of the miraculous way that love given freely will return—greater and more wonderful than it began.

• TOUCHING ANIMAL FRIENDSHIPS: Owen and Mzee, Tarra and Bella, Rescue and Jessica . . . touching true stories of the emotional bonds possible between species are charming, and speak to the limitlessness of love.
• ELEPHANT APPEAL: Elephants are one of the most fascinating and charming wild animals in all of nature. This heartwarming true story will intrigue and inspire children, and turn even the most reluctant readers into elephant enthusiasts.
• CONSERVATION THEME: This book tells the true story of caring for one of the world's most beloved endangered animals: the African elephant. This book is a great, upbeat jumping-off point for discussions of the importance of preserving endangered species and their environments.
• ENGAGING NONFICTION: There's no better way to get readers hooked on factual books than to offer them real-life stories with heart and meaning.
• STRONG CURRICULUM CONNECTIONS: The Next Generation Science Standards (NGSS) emphasize learning about animal habitats/biomes in K–2 curriculums, while later grades address topics like conservation and endangered species. With a depth of research and an engaging, highly visual narrative, this book is an excellent resource for librarians and primary school educators.

Perfect for:

• Kindergarten and elementary school teachers
• Parents and grandparents
• Librarians
• Lovers of animals, wildlife, and the natural world
• Zoo and natural history museumgoers
About the Author
---
Kim Tomsic is also the author of the nonfiction picture book Guitar Genius: How Les Paul Engineered the Solid-Body Electric Guitar and Rocked the World. Kim is the mother of two children and divides her time between Boulder, Colorado, and Scottsdale, Arizona. She serves on the board of her father's charity (Friends of Haiti) and is the Co-Regional Advisor of the Rocky Mountain Chapter of the Society of Children's Book Writers and Illustrators.

Hadley Hooper is an illustrator and painter. Some of her previous books include the award-winning The Iridescence of Birds: A Book About Henri Matisse and Mabel and Sam at Home. This is her eighth picture book. She lives in Denver with her partner, Hugh, and dog, Augie. Elephants are her favorite animals, but dogs are a very close second.
Praise For…
---
"[A] moving true story. . . (Have tissues handy.) [The Elephants Come Home's] flawless, gentle pacing [and] pages with saturated, eye-catching teal, copper, and emerald hues. . . . heighten the story's emotional impact. . ."—The Horn Book Magazine

"The illustrations are expansive with a limited color palette of warm oranges and cool greens and blues. The animal characters are dynamic, humorous, and emotive. . . . A sentimental but high-­interest story based on true events of the bond between wild animals and the humans who care for them, suitable for early elementary students."—School Library Journal

"This touching true story portrays conservationist Lawrence Anthony's relationship with a frightened, hunted elephant herd that found a home at his reserve in South Africa, Thula Thula. . . The importance of conservation shines through the friendship story here, and both themes are beautifully complemented by Hooper's detailed, atmospheric drawings of the elephants and their surroundings."-Booklist