Snowman - Cold = Puddle: Spring Equations (Hardcover)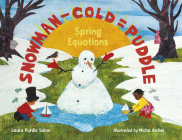 $16.99
On Our Shelves Now. Please call our store for up-to-the-minute stock availability.
Description
---
Poetry + Math + Science = A new way of looking at spring

Math meets metaphor in this eye-opening exploration of spring. Each clever equation is a tiny, perfect poem that prompts readers to look at the ordinary and see the miraculous. Can you look at an egg in a nest and see a jewelry box? How are sunlight and heat like an alarm clock? Engaging sidebars reveal the science behind the signs of spring.
About the Author
---
Laura Purdie Salas knows that poetry and science are both about exploring the world. Part poet and part scientist, Laura is the award-winning author of more than one hundred books, including If You Were the Moon, A Rock Can Be, and Water Can Be. She experiences spring, summer, fall, and winter in Minneapolis, Minnesota.

Micha Archer's radiant collage illustrations for this book grew out of a New England spring. Micha is the author and illustrator of Daniel Finds a Poem, as well as the illustrator of Around the World in a Bathtub, Lola's Fandango, and The Wise Fool. She lives in western Massachusetts. www.michaarcher.com
Praise For…
---
"Equation poems" explore the science and poetry behind the processes of nature. "I am in awe of the scientific processes that make sunsets, storms, and, of course, spring," states Salas. Her volume begins with late-winter scenes in New England as "spring tiptoes in." Each page is a pleasing mix of colorful tissue-paper collage art, equation poems, and a bit of lively exposition discussing the science behind the equations. "Riverbank + otters = playground" features otters at play and text stating that "In spring, otters slip and slide in the dirty, slushy snow. No mittens. No hats. Just messy, muddy, mucky fun." A pair of brown-skinned siblings initially decked out in colorful winter garb are on hand in some scenes, their clothes changing with the seasons. The children's sense of fun and wonder enhances each scene they are in. One particularly beautiful page offers "1 dandelion x 1 breath = 100 parachutes." It appears opposite the "dusk + skunks = parade" equation, but happily, skunks are nocturnal, as the text informs readers. Not every equation adds up, though. Is "stampede" the best word in "stream + snowmelt = stampede!"? All in all, though, beautifully original art complements the fun of the playful poetry. Poetry + art = beauty.
—Kirkus Reviews

From Salas' point of view, "science + poetry = surprise!" Celebrating the natural world as winter turns to spring, this unusual volume offers a poetic equation on each page, accompanied by a vivid illustration and several short sentences of related text. A snowy scene depicting a downy woodpecker on a maple tree illustrates the statement "bark + beak = drum," while a short paragraph comments that this bird is hammering at the tree to find bugs, though it might use faster drumming in the spring to assert its territory or attract a mate. Sometimes the writing takes a more lyrical tone, as in the "frogs + night = symphony" page, where the text likens a chorus of different frog species to an orchestra and ends with "Bullfrogs honk low and loud on their watery trombones." Created with a variety of traditional media and digitally arranged, Archer's detailed, vibrant collages reflect a sense of wonder, while clarifying the literal meaning of each equation and its commentary. A handsome, original book for reading aloud each spring.
—Booklist


Salas posits that fully experiencing the seasons means looking through the lenses of both scientific study and art: "science + poetry = surprise!/ Science is why and how a/ flower grows. Poetry is/ looking at that flower and/ seeing a firework. Surprise!" In the early spring, "warmth + light = alarm clock." Salas explains that "hibernating animals wake up when spring days/ grow warmer and stronger." Elsewhere, "bark + beak = drum." The beak belongs to a woodpecker tapping against a tree "to claim its territory/ or attract a mate." Archer's torn paper collage and oil art offers sharp contrast in visual textures and colors. A bright, feathery blue and green river flows past a yellow riverbank; above lies the white of the melting snow. Elsewhere, child characters play and explore outdoors, one boy climbing a tree to the sound of frog songs ("frogs + night = symphony"). Nature, the book suggests, offers abundant surprises to those who take the time to notice.

—Publishers Weekly


This whimsical celebration of springtime features a playful equation poem on every page. Take the titular "snowman - cold = puddle." It's a subtraction sentence—minus the usual numbers—and a brainteaser, too. To help flesh out the "math," a brief paragraph explains that "when spring temperatures rise above freezing, snow melts into water. Sad news for snowmen!" On each new double-page spread, equations are again paired with a few sentences that are always informative and often lyrical: "Lilac blooms are spring's perfume"; "Raindrops bend sunlight." For the equation "hive + bees - bees + bees = airport," Salas describes the behavior of scout honeybees: "Bees fly out. In. Out. In. Out. In. You could get dizzy watching busy bees!" It's lively language that begs to be read aloud. Tracing the season's changes from early to mid to late spring, Archer's collage illustrations are rich with texture and detail. In a rain-streaked scene, a girl's hair beads peek out from under her yellow rain hat, offering a glimpse of a rainbow. To—ahem—sum things up, this picture-book blend of math, science, and poetry welcomes—and explains—the hallmarks of spring with effortless ebullience. Author and illustrator notes, a description of different ways to define the start of spring, and further reading suggestions are appended. Pair this with Betsy Franco's Mathematickles!

—The Horn Book