Goodnight Great Outdoors (Hardcover)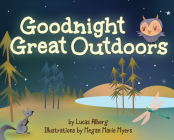 $16.95

Not on our shelves now. Usually ships in 4-7 business days from warehouse.
Description
---
A Perfect Bedtime Story, Whether You're Under a Roof or Under the Stars
Gather the children. Cuddle into a warm sleeping bag. It's time to fall asleep. This gentle, calming story celebrates the wonders of the great outdoors by saying goodnight to nature. As the sun sets, the family prepares their campsite for nightfall. "Goodnight hills, and goodnight clean air. Goodnight creatures everywhere." The soft, rhyming text complements dream-like illustrations, creating a picture book that's just right for winding down. So spend your days playing and exploring. With Goodnight Great Outdoors, you have bedtime covered.
About the Author
---
Lucas Alberg is a native Kansan who ventured out west in pursuit of outdoor adventure in the mountains. Finding his happy place in the Pacific Northwest, he soon combined his creative pursuits with his new home. Lucas currently works for an outdoor products company, plays music, writes, runs, and generally goes about life with a smile on his face. His adventures nearly always involve his lovely wife and two small children, and they always end with a treat. Goodnight Great Outdoors is Lucas's second book and first children's book. Megan Marie Myers is a painter, illustrator, and native Oregonian. A love for wild places is her constant inspiration; when she is not painting, she is out exploring trails and running in the Oregon outback. Megan's favorite projects are inspired by the outdoors and the connection we have to our natural surroundings and to each other. In addition to illustration work, Megan paints original artwork and designs her own line of greeting cards, museum-quality fine art prints, calendars, and other paper goods as Megan Marie Myers Art, based in Bend, Oregon.