Must. Push. Buttons! (Hardcover)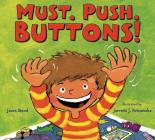 Email or call for price
Not in stock at our store or warehouse. Special Order. Please call or email for stock availability.
Description
---
Ever wonder what goes on inside the mind of a toddler?
Are you sure you want to know?
Okay, here goes. . .
I want to put on Mommy's shoes.
Get Mommy's shoes off my feet NOW.
I'm starving!
I want to play with Daddy's phone!
I need to push some buttons!
In this high-energy, oh-so-true account of life with a toddler, readers are treated to the unique workings of little minds. Ready?
About the Author
---
Jason Good has appeared on Comedy Central's Live at Gotham, and Howard Stern's Kill or Be Killed. He is currently developing a 30-minute weekly series about his life trying to juggle his three careers: writing, stand-up comedy and fatherhood. His adult humor book is forthcoming from Chronicle in 2014. He lives in Minnesota with his wife and two small sons, and enjoys making them laugh more than anyone. Visit him online at www.jasongood.net.
Jarrett J. Krosoczka has authored and illustrated numerous picture books and graphic novels. His Lunch Lady series has twice won a Children's Choice Book Award, and was nominated for a Will Eisner Comic Industry Award. In 2013, Jarrett makes his chapter book debut with Platypus Police Squad: The Frog Who Croaked. His Punk Farm and Lunch Lady series are both currently in development as feature films. While Jarrett awaits seeing his work adapted for the silver screen, he can be heard on The Book Report with JJK, his radio segment on Sirius XM's Kids Place Live. Jarrett is happily living out his childhood dream in Northampton, Massachusetts, where he resides with his wife and daughters and their pug, Ralph Macchio. Visit him online at www.studiojjk.com.
Praise For…
---
"Mixed-media illustrations, from art digitally created by acrylic paints, watercolors, and oil pastels, maintain the loud energy found within the child's home. Even brightly patterned wallpaper adds bold color to the decor. In a manic glimpse into the absence of impulse control, this child's zany exuberance knows no bounds." —School Library Journal
"Weary parents--as well as those responsible for some of that weariness--will find it easy to recognize themselves." —Publishers Weekly
"This book will attract attention and be in demand." —Booklist