Looking out the Window: Are Humans Really Responsible for Changing Climate? The Trial of Carbon Dioxide in the Court of Public Opinion (Paperback)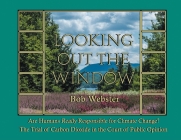 $47.95

Not on our shelves now. Usually ships in 4-7 business days from warehouse.
Description
---
"The hot dry seasons of the past few years have caused rapid disintegration of glaciers in Glacier National Park, Montana...Sperry Glacier...has lost one-quarter or perhaps one-third of its ice in the past 18 years... If this rapid rate should continue...the glacier would almost disappear in another 25 years..."
"Born about 4,000 years ago, the glaciers that are the chief attraction in Glacier National Park are shrinking so rapidly that a person who visited them ten or fifteen years ago would hardly recognize them today as the same ice masses."
Do these reports sound familiar? Typical of frequent warnings of the dire consequences to be expected from global warming, such reports often claim modern civilization's use of fossil fuels as being the dominant cause of recent climate warming.
You might be surprised to learn the reports above were made nearly thirty years apart The first in 1923 prior to the record heat of the Dust Bowl years during the 1930s. The second in 1952 during the second decade of a four-decade cooling trend that had some scientists concerned that a new ice age might be on the horizon
Did the remnants of Sperry Glacier disappear during global warming of the late 20th century?
According to the US Geological Survey (USGS), today Sperry Glacier "ranks as a moderately sized glacier" in Glacier National Park.
What caused the warmer global climate prior to "4,000 years ago" before Glacier National Park's glaciers first appeared?
Are you aware that during 2019 the National Park Service quietly began removing its "Gone by 2020" signs from Glacier National Park as its most famous glaciers continued their renewed growth that began in 2010?
Was late 20th-century global warming caused by fossil fuel emissions? Was it really more pronounced than early 20th-century warming? Or was late 20th-century warming perfectly natural, in part a response to the concurrent peak strength of one of the strongest solar grand maxima in contemporary history?
These and other questions are addressed by "Looking Out the Window."
Be a juror in the trial of carbon dioxide in the court of public opinion and let the evidence inform your verdict.