Event date:
Wednesday, January 14, 2015 - 6:30pm
Give us your stroller-pushers, your nose-wipers, your potty-trainers yearning for a night out, and join us at Red Balloon where comedian Jason Good and illustrator Jarrett J. Krosoczka will celebrate the launch of their highly relatable picture book, MUST. PUSH. BUTTONS! In the style of Jason's viral article, "46 Reason My Three Year Old Might be Freaking Out," MUST. PUSH. BUTTONS! shares the life of a toddler with hilarious honesty. In a book event like no other, Jason will tell real stories of parenting disasters collected via social media while Jarrett creates spontaneous illustrations. Cake, wine, more wine, and a book signing will follow. Call the babysitter and join us for a well-deserved night out!
Jason Good has appeared on Comedy Central's "Live at Gotham" and Howard Stern's "Kill or Be Killed." He is currently developing a 30-minute weekly series about his life trying to juggle his three careers: writing, stand-up comedy, and fatherhood. He lives in Minnesota with his wife and two small sons, and enjoys making them laugh more than anyone. Visit him online at www.jasongood.net.
Jarrett J. Krosoczka has authored and illustrated numerous award-winning picture books and graphic novels. His works include the Lunch Lady series and Punk Farm, both currently in development as feature films. Jarrett can be heard on "The Book Report with JJK", his radio segment on Sirius XM's Kids Place Live. Jarrett is happily living out his childhood dream in Northampton, Massachusetts, where he resides with his wife and daughters and their pug, Ralph Macchio. Visit him online at www.studiojjk.com.
DATE: Wedneday, Jan 14
TIME: 6:30 pm
PLACE: Red Balloon Bookshop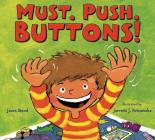 Email or call for price
ISBN: 9781619630956
Availability: Not in stock at our store or warehouse. Special Order. Please call or email for stock availability.
Published: Bloomsbury USA Childrens - January 6th, 2015
---